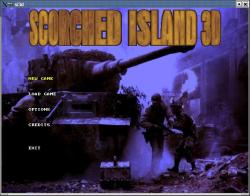 Scorched Island 3D
Combines tactics from popular game Scorch and elements from RPG games for DOS or Linux.
Scorched Island 3D is a clone of popular dos game called Scorched Earth, but this one is in three dimensions. It is a game where you try to shoot your opponent over the hill with different weapons and such (very similar to Worms too).

Go directly to Scorched Island 3D
Go to Category: Strategy  or Report a Problem.
Help us build the largest freeware directory of free software downloads by submitting your downloadable freeware today.  Find more listings like Scorched Island 3D by browsing the freeware category Strategy.
The Freeware Directory contains Strategy, software companies, businesses, internet sites, and developers offering downloads of business and internet applications, file and system utilities, games, graphic and computer programs for PC's, Handhelds, and PDA's.