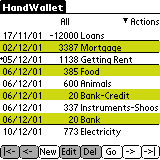 HandWallet Basic
HandWalletTM is the leading and most downloaded finance software for PDA's (Pocket PC / WinCE, Palm OS, Symbian OS) and WAP Mobile Phones.
Track income, expenses, loans and savings. By knowing exactly what are your resources and on what you are spending them on you will be able to save money every month. Track up to 3 Bank accounts, Credit Cards or Cash.

Go directly to HandWallet Basic
Go to Category: Pocket PC Freeware  or Report a Problem.
Help us build the largest freeware directory of free software downloads by submitting your downloadable freeware today.  Find more listings like HandWallet Basic by browsing the freeware category Pocket PC Freeware.
The Freeware Directory contains Pocket PC Freeware, software companies, businesses, internet sites, and developers offering downloads of business and internet applications, file and system utilities, games, graphic and computer programs for PC's, Handhelds, and PDA's.