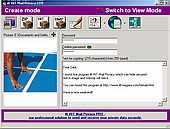 4t HIT Mail Privacy Lite
Sends and receives private data hidden in images of various types by using a strong encrypting algorithm.
Protect your confidential email in seconds There is no doubt that even with conventional email protection, there are unscrupulous people who can and will, intercept and read emails. 4t HIT Mail Privacy Lite provides a quick and easy way of protecting your communications by embedding your text into an image, combined with a particularly strong encryption method, you can be assured your mail is safe.

Go directly to 4t HIT Mail Privacy Lite
Go to Category: Data Encryption  or Report a Problem.
Help us build the largest freeware directory of free software downloads by submitting your downloadable freeware today.  Find more listings like 4t HIT Mail Privacy Lite by browsing the freeware category Data Encryption.
The Freeware Directory contains Data Encryption, software companies, businesses, internet sites, and developers offering downloads of business and internet applications, file and system utilities, games, graphic and computer programs for PC's, Handhelds, and PDA's.